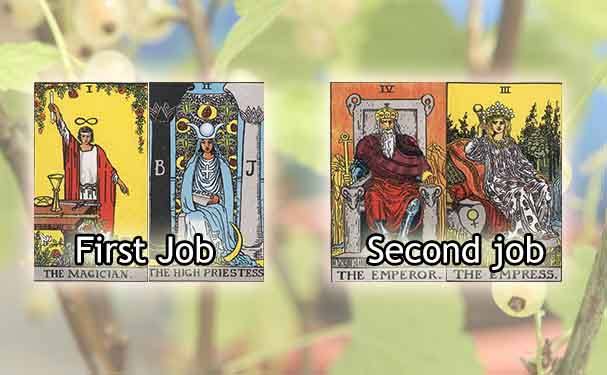 If you choose to pursue a career, you're going to be met with choices. One of the most stressful choices is changing jobs, or if you're lucky enough, even choosing between jobs.  You should always carefully think about these things. This Career Choices spread is designed to help you put aside some time to consider the good and bad of each choice.
As always, ensure you have peace and feel calm before beginning. Then, arrange four cards face down (two cards per choice; you can add more cards if you're lucky enough to have more choices but stick to two cards per choice) and group them in pairs. The card on the left represents the good of each choice. The card on the right represents the bad of each choice. This isn't something to rush into at all, so be sure to take your time and think over the meanings of each card.
Want to Choose Your Live Career Choices Spread Tarot Reader?
We've selected live tarot readers to give you a FREE 3 Minute Career Choices Tarot Reading! Scroll through them below and pick your favorite one.
The following tarot readers from Kasamba have been rigorously scrutinized and tested. We can confirm that they are REAL Tarot Readers who will offer accurate predictions and detailed answers for you. Select one of them below and get a free Career Choices tarot reading with:
FREE 3 minutes chat + 50% discount!
New clients only. Credit card required.
How was your Free Career Choices Tarot Reading? Let us know in the comments below!
(Visited 2,085 times, 2 visits today)