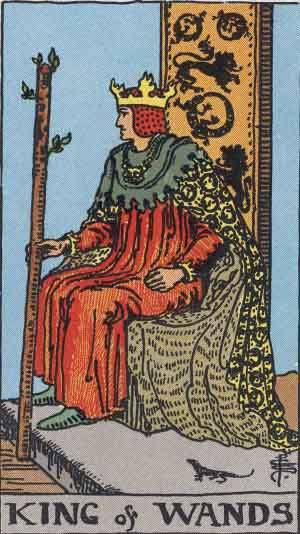 The King of Wands is the final card in the suit of Wands. The King of Wands embodies much of the meaning of the entire suit, and should be taken seriously when seen. Much like the Queen of Wands, The King can represent a strong male influence in your life.
The King of Wands in a sentence
The King of Wands represents authority, honesty and mindfulness.
The King of Wands in a time based position
Past – The King of Wands in the Past position can represent a past event where you were cautious and forward thinking and acted more on theory than practice. It could be that your ideas of the past are finally coming into being now that you have the skills to create them.
Present – The King of Wands in the present position can mean that if you work hard in the area that you wish to succeed in, you will succeed. If you don't give up, nothing can stop you. It may take time if you aren't used to it, but keep going, as you can only improve. Work with others of similar skill, and don't feel like you've been left behind. Help yourself.
Future – The King of Wands in the future position can suggest a strong potential outcome if your career. You'll be happy with what you're doing, especially if you're concerned with, or work with money. You'll need to take risks, but weigh them up and think about your past.
The King of Wands in regards to life issues
Work / Education – The King of Wands in regards to work or education can mean you'll need to look to someone more experienced and learn from them, likely an older male. You might be able to do their job better, but you still need that foundation of background knowledge to be able to work effectively. If you're studying, talk to your professor or lecturer in your free time. Contacts and links like that can help in many ways in the future. Remember that all the advice you get has been filtered through their personality, so take the objective facts and apply them in your own way.
Romance – The King of Wands in romance is a very good sign and suggests a mutual feeling between two people. Expect a new level of maturity in any existing relationships as you learn previously unknown connections. If you're available and looking, expect to find somebody who you work with, or who knows a lot about you. They'll just seem 'right' for you. All in all, The King of Wands is a good sign for finding love.
Friends – The King of Wands in regards to friendship means things are going well. It might be a good time to make some older friends, or join a club more suited for older people. Learn to take advice from your friends more. It doesn't matter if they're showing off, you can learn from them still.
Money – The King of Wands in regards to finances is another good sign. Look to starting your own business, nowadays if you have an idea, you can find a way to apply it with little technical skill. Just get to know the people with those skills and you're set. Investments would be a great idea if you believe in a product or service and can foresee it's growth.
Health – The King of Wands echoes the mature nature of the card when health is concerned. It's a case of knowing what is right for your body and mind, and then doing those things. You know how to eat well, you know how to exercise, you know what to avoid. It's just a case of putting these things into practice. A role model will be a good thing to have right now. Think of someone living your perfect life, and aim for it. If you're unsure about any aspect of your life, it's worth speaking to a doctor to at least alleviate the worry.
Spirituality and Mentality – The King of Wands in spirituality suggests a mature level of dealing with your life. You know what you want and what you're doing. If things aren't going the way you want, then ask yourself why. Are you meant to do this? Are you doing it because you want to, or feel you need to?
Keywords for the King of Wands
Visionary, ambition, leadership, paternity, education
Other associations of The King of Wands
Element: Fire
As a Yes or No question: Yes
See related: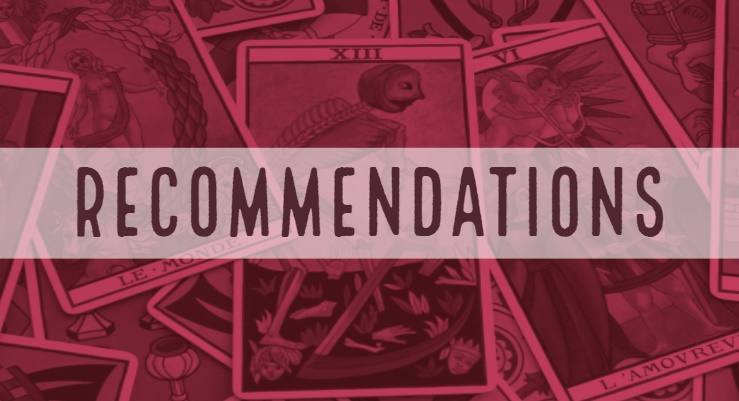 Take a look at our recommended tarot decks, books and accessories