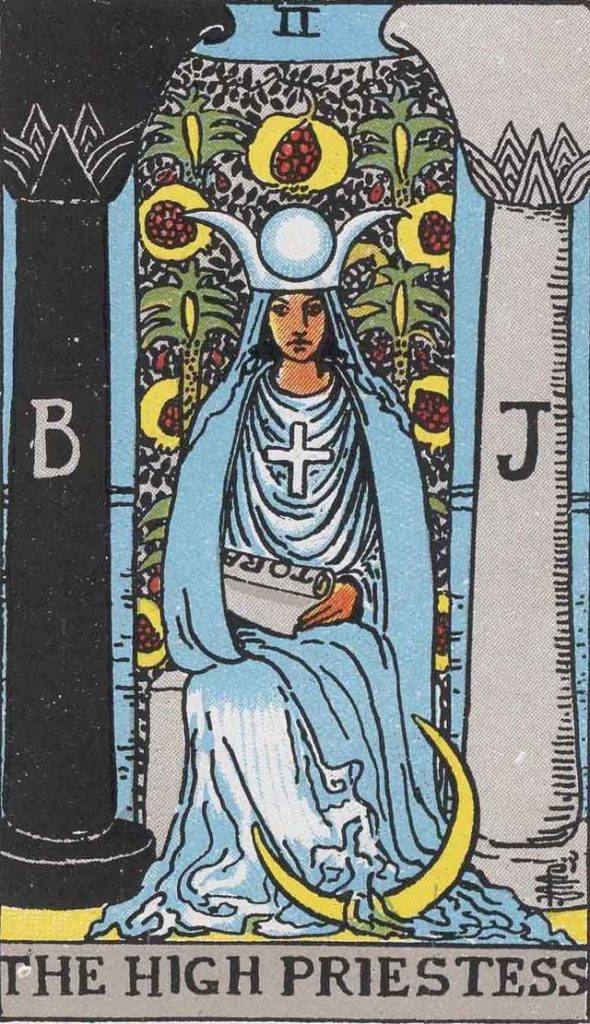 The High Priestess is a card of the Major Arcana set and is all about patience, secrets, and knowledge. It is neither a positive nor negative card, in fact, many of the symbols on the face show balance; sitting beside Boaz and Jachin, with a Sun cross and Moon crescent.  You hold the tools required to continue, just give it time.
Below, you will find details of the meanings of The High Priestess. But first…
…We would recommend speaking to a live Tarot reader to get the best understanding of The Fool in relation to your life. That way, when you read the details that follow, you will be able to fully relate. You can do this with free tarot readings from our experienced, highly-recommended experts at Keen and Psychic Source.
The High Priestess in a sentence
The High Priestess symbolises balance and intuition and forethought before action. "Think before you act"
The High Priestess in a time-based position
Past – The High Priestess in the past position shows a time in the past where you have had to be patient to proceed. Maybe all that time studying a dull subject, or waiting in a long queue for an important matter.
Present – The High Priestess in the present position suggests you should avoid conflict and action and 'mull over' the things you're being told. They may just be an illusion, or, someone is telling you one thing but hinting on the bigger picture.
Future – The High Priestess in the future position represents possibly coming required patience or the unveiling of a secret that you might not be privy too, or will overhear.
The High Priestess in regards to life issues
Work / Education – The High Priestess could mean a lot in work. You could be slaving away when something could be done more easily or could be fully automated. You could use already existing methods to further increase your output.
Romance – The High Priestess in regards to romance means that you might become more attractive to the opposite sex, especially if you are a female. The High Priestess balances masculine and feminine to a degree, but she is largely a female-oriented card.
Friends – There might be some tension in your group when the High Priestess shows in regards to Friendship. Don't act on it, but observe all of the information and stay impartial until you can decide the most moral course of action.
Money – The High Priestess in regards to wealth means that something isn't right. You might have unexpected money coming. Someone may be hiding something from you or you might have accidentally signed up to some sort of deal that will cost you more in the long run.
Health – Again obscurity, The High Priestess in regards to health means something may not be sitting right within the balance of your body. Are you eating okay and exercising well? If something feels like it is missing, try to fill the void with a healthy activity. If you are worried about anything, go to see your Doctor.
Spirituality and Mentality – The High Priestess in spirituality means you may be on the cusp of a new level of understanding. You have all the tools needed, you just need to observe to make sense of them.
The Meaning and Symbology of The High Priestess
The High Priestess is illustrated with an enormous array of western symbolism. Prominently displayed are Boaz and Jachin, the pillars from the Temple of Solomon, also present in Masonic learning and Qaballic study. To reinforce this, the Tree of life is displayed, though obscured, behind the priestess herself. She covers much, symbolising that she is the protector and custodian of these. Nothing is shown fully, other than the pillars. The obscured Torah in her hands again reinforces the Qaballic link.
Consider listening to your gut feeling more. Recently you may have felt that you were going against your instinct for whatever reason, whether this was something recently that you did which was morally wrong, or maybe you feel you are walking down an incorrect path. Introspection will usually lead us to our inner goals, thoughts, and feelings. Take some time to yourself to consider your life and look for help from those more experienced. If you find you have no time for yourself, then make yourself a priority.
Keywords for the High Priestess
Knowledge, Mystery, Wisdom, Feminine energy
Other associations of The High Priestess
Element: Water
Astrology: Moon
As a Yes or No question: Unclear, or, the question is not as straightforward as Yes and No.
Looking for a Live Tarot Reading?
We've selected live tarot readers to give you a FREE 3 Minute interpretation of The High Priestess! Scroll through them below and pick your favorite one.
The following tarot readers from Kasamba have been rigorously scrutinized and tested. We can confirm that they are REAL Tarot Readers who will offer accurate predictions and detailed answers for you. Select one of them below and get a free tarot reading with:
FREE 3 minutes chat + 50% discount!
New clients only. Credit card required.
How was your Free Tarot Reading? Let us know in the comments below!
(Visited 43,320 times, 21 visits today)